Would you like to find the best fitness programs to meet your specific needs, wants and goals? Look no further than the BodyFit App from www.bodybuilding.com. It is by far the most heralded and used fitness app in the world.
With over 18 million subscribers, and more joining every day, the BodyFit App offers everything and more that you need to help you meet and exceed your fitness goals. It offers step-by-step home workout programs as well as programs for the gym.
Since 1999, www.bodybuilding.com has helped hundreds of millions of people burn fat, build muscle, and better themselves through fitness. . They've also introduced experts and influencers who have become guiding lights in the industry, and who have helped people train, eat, and supplement more wisely and effectively. And now: the BodyFit App.  Click on the icon below to preview the app:
BodyFit: Your Digital Personal Trainer
BodyFit has two levels. One level is called BodyFit Plus. It offers more than 2,500 workout articles and videos. BodyFit Plus also includes access to a fantastic exercise database with over 3,500 exercises.
Those range from standard exercises like the squat and bench press to hundreds of more specialized moves.
This database of exercises has been recently updated with new instructions, videos, and features to help you find the right exercise for your goals and perform it as effectively as possible.
The Workout Programs And Tracker App
The other level is BodyFit Elite. It includes everything that comes with BodyFit Plus, in addition to more than 90 plans and program.
Elite is where you'll find full transformation guides, meal plans, daily video workouts, and a mobile app with fantastic features such as workout tracking. It's like having a personal trainer in your pocket.
I LOVE this and use it 6 days a week. It's fun to use and very motivating!  And, BodyFit simply offers the best fitness programs available.  FOR EXAMPLE:  See the video below for an overview of the "Ultimate 30-Day Beginner's Guide to Fitness". A GREAT start for guys over 60!!!
Each day it tells me exactly what I am supposed to do. It tracks my progress. It tells me how much time I should rest between sets. I can see my progress, week-to-week. And, it tells me how much total weight I moved each day.
How-to videos for each exercise can be accessed in seconds.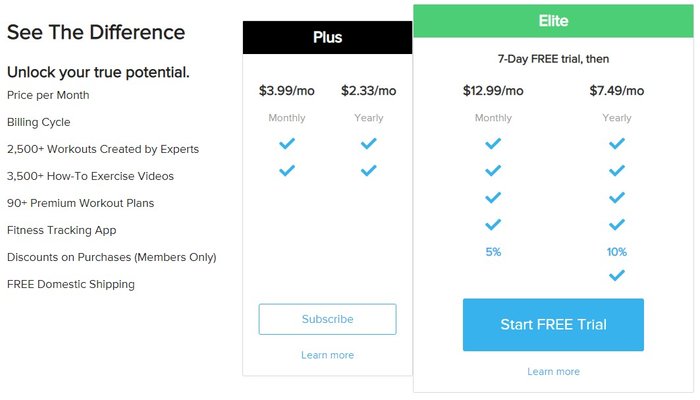 BodyFit: Bodybuilding.Com's Single Fitness Solution
BodyFit Elite
90+ plans and programs
Full transformation guides
Meal plans
Daily video workouts
Fitness app with workout tracking and other features
2,500+ curated workout articles and videos
3,500+ exercises in one easy-to-use database
And more!
BodyFit Plus
2,500+ curated workout articles and videos
3,500+ exercises in one easy-to-use database
And more!
BodyFit tailors specific health and fitness solutions to your needs, and helps connect you with those solutions. The app designed to function as a digital personal trainer that's only one click away on your phone or other device.
They constantly add new content, new workout plans, and new features to each level. Sign up today to enjoy the benefits throughout 2020 and beyond!
Choosing a Workout Plan That is Perfect for You
To achieve your fitness goals, you need a workout plan that fits who you are. Only then can that plan help you become who you want to be: the new you.
You can check out the details for each plan regarding duration, fitness level, goal, workouts per week, and equipment needed. With all the information provided you'll be able to select a plan that is just right for you.
Too many times, people start an ambitious plan that is right for someone else, but totally unfeasible for them. They start out hopeful, but end up discouraged. Their mistake was choosing the wrong plan!
Once you've narrowed your selection to a final few plans, watch their promo videos, read the sample workouts, and check out the plan's main page. This is where the intangibles kick in.
Does the program's coach seem like he or she is talking directly to you? Does it feel like the plan is something you're willing to commit to—even when it gets tough to keep going?
The best workout plan for you is the one you will successfully complete!
There are plans to address 5 types of goals:
BodyFit:  Muscle-Building Plans
BodyFit:  Weight Loss Plans
BodyFit:  Plans for Getting Fit
BodyFit:  Plans For Gaining Strength
BodyFit:  Performance Plans
At the tine of this writing there are 41 plans designed specifically for MUSCLE BUILDING.
If you want to burn fat and get in your best shape ever, there are 21 plans for WEIGHT LOSS.
For those whose aim is to build STRENGTH AND SIZE, there are 21 plans tailored specifically for that.
If your goals are to become the most FIT and reshape your body, there are 23 plans to choose from.
If you wish to boost both how you look and your PERFORMANCE, there are 8 plans from which you can select.
There are 32 different plans for BEGINNERS. You'll be able to pick a plan to help YOU get started on YOUR goals with one of the progressive plans.
There are 49 plans for people at an INTERMEDIATE level. You can pick the one that will help you step up the volume, intensity, effort and gains.
And, there are 24 plans for people at an ADVANCED level of fitness. These are the toughest workouts for achieving your best results.
Articles
There are tons of articles to help educate and motivate you. I love reading articles when I have time. They help educate and inspire me. The end result is I gain and maintain greater fitness.
TRAINING

Exercise Guides
Build Muscle
Weight Loss
Programs
Cardio
Crossfit
Powerlifting
Stretching
Sports
1 Rep Max Calculator
NUTRITION

Recipes
Nutrition Tips
Diet Plans
Meal Planning
Supplementation
Macro Calculator
Body Type Quiz
BMR Calculator
All Calculators & Tools
FOR WOMEN

Lifestyle
Motivation
Muscle Building
Weight Loss
Transformations
Workouts
OTHER TOPICS

Keto Diet
Running
Swimming
Squat
Hypertrophy
Beginners
Community
With over 18 million subscribers, there is a robust community that offers all kinds of support.
There is a category called BODY SPACE

Photo Gallery
FitBoard:  You can create your own fitness dashboard to chart your activities and progress
Member Search
Training Apps
A FORUM for discussions and information about relevant topics

Supplements
Workout Programs
Exercises
Nutrition
Lose Fat
BODYSPACE PROGRAMS to help you find just the right program for you, or, to design the right program

Find A Program
Find A Workout
Build A Program
Build A Workout
Track A Workout
Social Media Groups called GET SOCIAL

Instagram
Facebook
YouTube
Twitter
Pinterest
The Online Store
There is an online store with countless supplements, clothing and equipment. The selection of top name brands is vast. The prices are guaranteed to be the lowest. There are many special discounts and discounts for BodyFit members.
Product Categories include:
Protein
Energy & Endurance
Workout Support
Vitamins & General Health
Muscle Building Supplements
Supplement Stacks
Weight Loss Supplements
Workout Clothes
Workout Accessories
Workout Equipment
Conclusion
I have been a subscriber to BodyFit for a few years. I have not found anything that compares to the value it provides for those of us who wish to pursue and enjoy a lifestyle of fitness.
I use the BodyFit app almost every day. It is so easy and, actually, fun to use. The results I enjoy in overall fitness makes it more than worthwhile to spend $89 annually to be a subscriber.
I would much rather invest some money and time in being healthy and fit. It saves me lots of money and time I don't have to waste from dealing with various kinds of sickness.
If you would like to have 24/7 access to the best fitness programs available, you should give BodyFit a try.
See my review of "Back to Fit", a 90 plan for beginners, especially with people in their 40's and above:
Remember, the 7-day FREE Trial. There is nothing to lose, but, potentially years of health and fitness to gain. Give BodyFit a try!